USSCF Attends APA National Conference
The USSC Foundation attended the American Planning Association's (APA) National Conference in April 2018, held in New Orleans LA.  This annual event has been extremely successful for the Foundation in the past and has provided a unique opportunity for the Foundation to distribute the results of its sign research projects to planners on behalf of the sign industry.
The APA Conference creates a relaxed atmosphere where the Foundation can speak one-on-one with planning professionals from across the country.  The USSCF's goal for this year's conference was to emphasize the USSCF's Model Code, Guideline Sign Standards, and Guideline Sign Lighting Standards.   (20) USSCF sign research projects have been completed since 1998, and all of these publications were made available to planners either in printed form, on CD, or from the new USSC Foundation website at no charge. See www.usscfoundation.org for electronic copies of all research reports.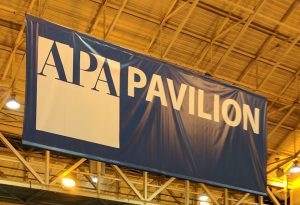 The USSC Foundation sign research projects are held in high regard by planners.  The USSCF's Guideline Sign Standards have been included in the APA's Street Graphics and the Law publication, starting in 2004.
Why attend the APA National Conference? Because planning professionals are important participants in the sign regulation and sign code process.  Their judgement counts, and directly affects the ability of sign owners, sign users and sign companies to manufacture and install on-premise signs.  That includes what type of signs are permitted. The USSC Foundation's motto "bringing science to sign regulation" describes the purpose of sign research, and the delivery of that research to the planning community.